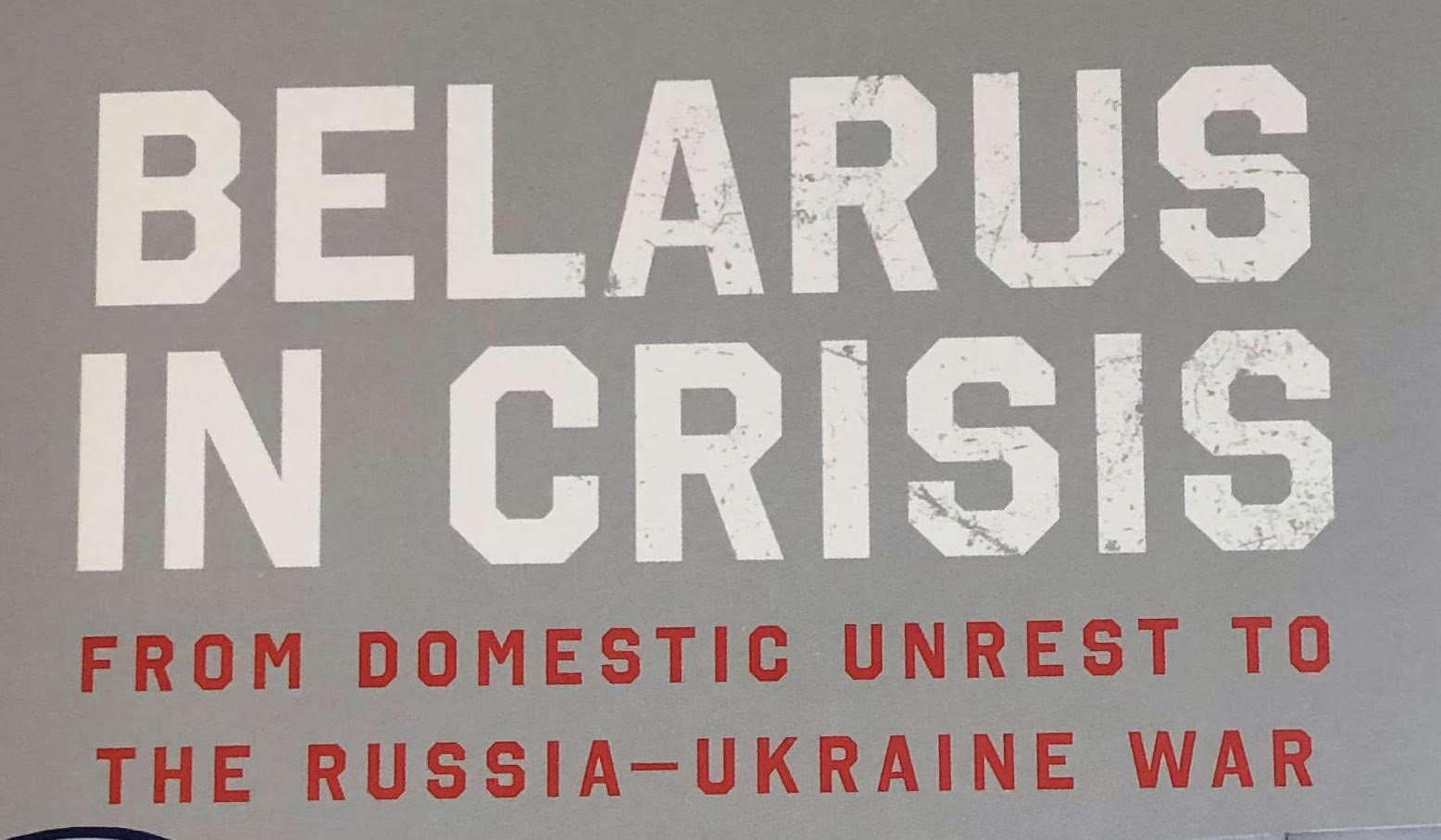 I might as well call these monthly reviews considering the amount of time between my first review and this one. My constant excuse is, "Well, I've been busy." But the whole point of doing these "weekly reviews" was to break out of my excuse-making habits and start writing more. I will do my best to keep these reviews weekly.

This past Friday and Saturday, 28–29 April 2023, was the eighth annual Belarusian Studies in the 21st Century conference. This review begins with a short summary of the conference. I describe a few of the panel presentations and then relay some of the key insights from the 2023 Annual London Lecture on Belarusian studies delivered by Dr Paul Hansbury. I conclude the discussion of the conference with some of my own reflections on Belarus-China relations.

As usual, I'm reading a whole series of different books and papers at the moment. Some have been computer coding textbooks (that I won't discuss here), but the majority have been discussions of political developments in the post-Soviet space. And these readings beg the question: after the 2022 expanded Russian war in Ukraine, is it better to say the post-post-Soviet space?
What I'm Thinking About
Many things have been on my mind since my last review. For example, the Ukrainian counter-offensive that the media cannot stop referencing (New York Times 1 May 2023). Or how to use a dataset of Chinese trade statistics that I was hoping to complete and share on this blog (GRCPRC 2023). Part of the difficulty of writing these posts is trying to distil what, exactly, I want to communicate. This time, I will focus on the Belarusian Studies conference. 
This year, I played a light role on the organising committee. With my position at the School of Slavonic and East European Studies, I secured a conference room at the University College London (UCL) Institute of Education. And with the help of Stephen Hall at the University of Bath, we won a small Conference Grant from BASEES (the British Association for Slavonic and East European Studies). 
The conference brought together 23 speakers, including Dr Vitali Byl (University of Greifswald, Germany), Pippa Crawford (UCL, United Kingdom), Tadeusz Giczan (Center for European Policy Analysis), Dr Anna Shadrina (also from UCL), and others. To see who else presented research at the conference, follow this link to the 2023 conference programme. 
This conference focused mostly on Belarusian history, politics, society, and culture. Past iterations have featured panels on business, education, international relations, and linguistics. Usually, I'm far too busy doing admin at these conferences to see much of anything. But this year, with my lighter role, I managed to catch most of the presentations. I am delighted to report all the panels this year were good. I particularly enjoyed the ones on propaganda and society. The following is a brief summary of the presentations that I remembered to take notes for.
Dr Vitali Byl gave a fascinating analysis of academic positions at state and non-state-linked institutions in Belarus during the current political crisis (2020 to 2023). He found evidence the regime of Belarusian dictator Aleksandr Lukashenka is struggling to fill positions with loyal academics. This is because the older, regime-supporting academics are retiring and the younger generations often seek to leave the country for better-paid work elsewhere. The regime, Byl noted, is quite happy to let academics leave Belarus. It means fewer disloyal people in the country to deal with. The upshot is a dwindling pool of qualified candidates for state institutions.
PhD researcher Andrei Kalavur (from Masaryk University in Czechia) presented a paper on state repression and the media. If my notes are correct, Kalavur's paper argues the regime is using old tricks but on new platforms and in new places. For example, a tried and tested regime narrative is there will be instability without the Lukashenka regime. A billboard erected this past week at the Belarus-Poland border is an excellent example (@kykyorg 30 April 2023). The novelty here is the location, literally on the Polish border. Another interesting feature is the billboard is written in English, seemingly intended for an international audience. The billboard (pictured below) shows children's hands holding a set of keys. The hands are being guided by a larger adult-looking hand. A caption on the billboard reads, 'OUR "DICTATORSHIP" DOES MORE FOR PEOPLE THEN YOUR "DEMOCRACY".' Evidently, brain drain in Belarus—especially among English teachers—is a problem. The condescending message on the billboard is that Lukashenka's dictatorship is like a protective father to a child-like people. Democracy would be like giving children the keys to the kingdom; without the regime, there would be chaos. 
In his presentation, Andrei Kalavur cited the regime's use of clone organisations. In the past, the regime has created clones of civil society organisations, so-called GONGOs (Government Organised Non-Government Organisations) (Wilson 2021). Recently, the regime created Tochka.By, a pro-regime clone of the popular online platform TUT.BY. The difference this time is the regime is attempting to clone a new type of organisation: an online news-media platform to replace the now-banned TUT.BY. Thus, the regime is attempting the same-old tricks, but in different ways.
The last presentation I will touch on was given by Tadeusz Giczan. He presented a group-written paper on the brain drain of Belarus's vaunted tech industry. Unfortunately, I did not catch the names of the other authors of the paper. In response to the regime crackdown of the 2020 protests and Russia's war in Ukraine, tech industry workers have been exiting Belarus in droves. Giczan claimed there have been three waves of brain drain: (1) in 2020, individuals left in response to the crackdown; (2) in 2021, more individuals went abroad to escape tightening restrictions on civil liberties and a slowing economy; and (3) in 2022, entire companies relocated to different countries in reaction to the war in Ukraine and expanding Western sanctions. Approximately 20,000 tech industry workers (one-quarter of Belarus's IT sector) have left the country in these three waves. 
Giczan went on to explain Belarus's tech industry exodus prompted the creation of the New Belarus Platform (mobile phone app). The purpose of the New Belarus Platform is to create a virtual Belarusian state beyond the control of the Lukashenka regime. As the website for the app states, "New Belarus is a platform for creating a free state in your smartphone" (New Belarus 2022). "New Belarus is a digital version of democratic Belarus… Created by Belarusians for Belarusians, it opens up new opportunities for those who left and those who remained in the country" (Google Play 19 April 2023). Pavel Liber, the co-founder of the Golos exit-vote-counting app, is the creator of the New Belarus Platform (Current Time 11 September 2020; Kyiv Independent 3 December 2022). The Golos app was used to compare the Lukashenka regime's claimed election result figures against how individual Belarusians claimed they voted (Batura 2022; TUT.BY 20 August 2020). The Golos app, Giczan argued, was instrumental in generating mass dissatisfaction with the regime's fraudulent claims of a landslide election win during the 2020 protests. The New Belarus Platform app seeks to connect anti-regime Belarusians and then to gradually expand its operations to support political objectives. To paraphrase Giczan, "Users can contribute to Belarusian society—like paying taxes and promoting businesses and a sense of community—but not support the corrupt Belarusian regime in the process." 
The idea of the New Belarus Platform is intriguing. The interconnectivity of today's internet and the ability to pay online makes the idea of a virtual state seem possible, if not plausible. It would be fascinating to conduct a study of similar or pre-internet attempts to create diaspora-led, virtual states beyond the control of a home nation-state. The difference with the New Belarus Platform is that it seems to be more a civil society-in-exile, rather than a government-in-exile. The New Belarus Platform reminds me of the libertarian idea of Seasteading (Wikipedia 2023), but the Belarusian initiative is far more realistic and compelling.
Dr Paul Hansbury delivered the conference's Annual London Lecture on Belarusian Studies. He also used the event to launch his book, Belarus in Crisis: From Domestic Unrest to the Russia-Ukraine War, which hit shelves on 20 April 2023. The book has received accolades from the likes of Edward Lucas and Professor Elena Korosteleva. I have my own copy and can't wait to get stuck in.
Dr Hansbury's lecture, From frying pan to fire? Protest, war and the forging of a Belarusian nation, was remarkable for its willingness to consider what-if scenarios in relation to the war in Ukraine. The outlook is stark for the Lukashenka regime and for Belarus in general. In the scenario of a Russian victory in Ukraine, for example, the likelihood of Russian annexation via the Belarus-Russia Union State would increase. The Union State is a supranational union between Belarus and Russia. Russia could justify forcing deeper integration of Belarus into the Union State as needed to ensure regional stability. The Lukashenka regime has been resisting deeper integration for years (Hansbury 2023, pp. 212–213). Lukashenka originally sought to use the Union State as a vehicle to enter high-level Russian politics (Wilson 2021). Ironically, it may become the tool that undoes his regime and what's left of Belarusian domestic sovereignty. 
Dr Hansbury went on to explain how the scenario of a Ukrainian victory also brings dangers. In the first case, a Belarusian partisan movement could return from Ukraine to topple the Lukashenka regime and liberate Belarus. In the second case, pro-Putin and/or Russian nationalist hardliners could forcefully take power with the support of the Kremlin. The Kremlin's logic would be to cement strategic depth between itself and Ukraine. In the two cases, the relatively small Belarusian army and the high level of Russian infiltration will not help matters. In short, Dr Hansbury's Annual London Lecture took a hard look at Belarus's geopolitics after the 2020 anti-regime protests. While troubling in its prognostications, the talk was a highly informative summary of Belarusian current events. 
I encourage anyone interested in contemporary Belarus to check out Dr Hansbury's Annual London Lecture and other conference recordings when they are posted to the Francis Skaryna Belarusian Library and Museum YouTube channel. 
While my own PhD research prominently features Belarus, and I'm mentioned as some kind of expert on the country, I have felt out-of-touch with recent developments. My focus has always been Belarus-China relations. The decline of this relationship and the intensity of the Ukraine-Russia war have shifted my attention away from Belarus. The Lukashenka regime's 2020 protests crackdown has diminished Belarus's role within China's Belt and Road Initiative (BRI). Belarus envisioned itself as an international BRI production and logistics hub (Rudyj 2020). But as Belarusian Political Analyst Arseny Sivitsky (2021) said on the @forstrategy Telegram Channel, "[T]he implementation of the Chinese-Belarusian agreements of 2015 is almost impossible… [I]nstead of turning Belarus into an industrial hub, [the Lukashenka regime] decided to turn it into one big concentration camp in the centre of Europe." The Lukashenka regime is now heavily sanctioned for its barbaric treatment of Belarusian citizens and for its participation in Russia's war (European Council 2023; UK Treasury 2022). The idea of Belarus acting as a BRI trade hub into the EU seems like something from a bygone era. In theory, Belarus could streamline Chinese goods into the Russian-led Eurasian Economic Union (EAEU). But it is reasonable to assume any EAEU member state—seeing that Russia is now so dependent on China (Gabuev 2022)—would be happy to do this for China. So, for some time now, Belarus has taken second place to news on Russia, Ukraine, or China.
That being said, my lack of attention has not made developments in Belarus any less important. Indeed, Belarus-Russia relations contributed to Russia's failure to seize Kyiv. Siarhei Bohdan (29 March 2022) alleges for years the Lukashenka regime purposely "refused to make preparations for a war with Ukraine… [as] a safeguard against Kremlin pressure." As a result, the infrastructure for Russia to conduct a large-scale military operation from Belarus "had to be hastily built after the war began." This created logistics problems for the Russian army, which attempted to seize Kyiv from Belarus along two axes (the February 2022 Russian advance is pictured below; see Zabrodskyi et al. 2022, p. 9). Russia's failure to take Kyiv is partly due to the lack of Belarusian military infrastructure between Belarus and Ukraine. One of Lukashenka's schemes to resist Russian pressure unintentionally aided the defence of Kyiv.
On top of everything, my heavy workload this year also meant the readings I would assign about Belarus for students were Ukraine-war-related or general overview pieces. The Belarusian Studies in the 21st Century conference was the perfect way to catch up. I would like to thank Yarik, Paula, Ale, and Andrew for making the conference possible. 
What I'm Reading
My reading has, once again, been scattered. Just as the world was becoming aware of the US intelligence leaks (New York Times 6 April 2023), I managed to finish the first volume of The Cambridge Economic History of China (Ma & Von Glahn 2022). I have long meant to do a review of books on modern-to-contemporary Chinese economic development. 
But then Aric Toler and the New York Times (13 April 2023) revealed the intelligence leak was thanks to 21-year-old Air National Guardsman Jack Teixeira trying to impress his gamer buddies online. Teixeira had been sharing top-secret intelligence in order to score street-cred points with users on Discord (an online messaging platform). Aric Toler, who works for the OSINT (open-source intelligence) group Bellingcat, had identified Jack Teixeira by examining a series of associated, publicly available online accounts that linked back to Teixeira and associated family members (Bellingcat 28 April 2023).
I was intrigued. Aric Toler, using open-source, publicly available information had found and gone to visit the source of the intelligence leak before US Federal Agents managed to apprehend him. I had known of Bellingcat since at least 2014, but I had never read any of their work. So, I devoured We Are Bellingcat: An Intelligence Agency for the People, the book explaining Bellingcat's origins and mission as told by the organisation's founder, Eliot Higgins (2021). The book has two clear parts and different stylistic voices that accompany them—life before and after Bellingcat became a self-sustaining organisation. At times, the book almost feels like it's been written by two different people. I will not give examples here; this weekly review is already long enough. But I can imagine why: Higgins turned his geeky hobby into a force for good in the world—resisting tyrannical governments using hard, publicly accessible evidence, and bringing on board others that share his passion. The transformation must be enough to make his humble origins seem like a foreign land. And, hence, the different story-telling voices dividing his book.
Currently, I am reading Kristina Spohr's (2019) Post Wall, Post Square: Rebuilding the World After 1989. I am one-third in and wishing I had read it sooner. It is one of the best histories of the global revolutions of 1989 that I have come across. It is an excellent resource for undergraduate students.
I also read a series of recent articles from Demokratizatsiya and Post-Soviet Affairs. Particularly useful was Slavomír Horák's (2022) summary of recent leadership changes in Turkmenistan. Also in Demokratizatsiya, Alexander Iskandaryan (2022) gives a tidy overview of political developments in Armenia since the 2018 Velvet Revolution. Igor Torbakov (2022) provides a downbeat assessment of Ukraine-Russia relations. And I would have to agree with him. Finally, Timothy Frye, Scott Gehlbach, Kyle L. Marquardt, and Ora John Reuter recently published (15 Mar 2023) an evaluation of the list experiment method being used to measure Russian President Vladimir Putin's popularity. List experiments are a useful tool when survey respondents are nervous or suspicious that their answers are being monitored—as they may very well be in Russia right now. The technique is an indirect questioning method that limits untruthful answers caused by social desirability bias, shame, or fear. Frye et al. conclude that, accounting for biases of list experiment tests, Putin is roughly as popular as standard Russian opinion polls suggest. "[I]f one interprets the results of our placebo experiments as indicative of artificial deflation, then Putin's actual support may be as large as implied by direct questioning" (p. 8). If this is the case (which is debatable), then Putin's popularity in Russia has risen since the start of the 2022 invasion. According to the Levada Center, in the months leading up to the expanded war, Putin's approval ratings had been in the mid-to-high 60s (Levada Center 2023). Currently, in April 2023, his approval rating sits at a whopping 83 percent (ibid.).
What I'm listening to
Since yesterday I've had the transcendent Goodbye (featuring Toki Asako) by Japanese post-rock group Toe (2009) stuck in my head. What's good about it? Pretty much everything.
After I rage cancelled my Spotify subscription (for several reasons), I returned to listening to music on YouTube like a peasant.
Considering my only sources for new music are BBC radio or YouTube recommendations (the latter of which I ignore), I have a tendency towards music I'm already a fan of. So, don't be surprised if I share a few more oldies-but-goodies, such as TTNG's (2017) Whatever, Whenever recorded live for Milk Time Productions. 
You've been warned.